Liposuction Surgery | Find Cost / Price Information and Much More
Learn everything about your treatment
Liposuction, also known as lipoplasty, liposculpture, or lipo, is a surgical procedure that removes stubborn pockets of fat from the body. It is not a weight-loss procedure. Instead, it is very effective at perfecting and sculpting so-called problem areas. It is one of the most popular cosmetic procedures in the UK every year.
Overview
access_time
Procedure time
60 to 180 mins
nights_stay
Overnight stay
0 - 1 night
local_hospital
Anaesthetic
General or local with sedation
Is liposuction right for me?
Wet, dry or ultrasound-assisted lipo might be a good option for you if you struggle with areas of stubborn fat that have not changed even after lifestyle changes.
This guide details wet and dry lipo. Learn more about VASER liposuction by clicking this link.
You may be a suitable candidate for wet or dry lipo if you:
Have had no results from other fat removal methods and lifestyle changes
Are at a stable weight and are in overall good health
Have skin that is firm and elastic in the area where you want fat removal
Have reasonable expectations for your lipo results

Is liposuction a good way for me to lose weight?
No, liposuction is not a good way to lose weight.
In fact, fat removal is limited to 3 litres per liposuction surgery in the UK. The likelihood of complications developing increases when fat removal is greater than 3 litres.
Too much fat removal at once also increases the chance the patient will be left with sagging skin. This is because the skin cannot usually shrink to fit the area after a large amount of fat removal.
If your goal is to lose weight, you may be a much better candidate for true weight loss surgery like gastric band surgery rather than liposuction.
Where on my body can I have liposuction done?
Lipo works for fat removal across the body with limited exceptions.
Multiple areas are often treated during one surgery to optimise your results. You should be aware that the more areas treated, the higher your liposuction cost.
The most popular locations for lipo are:
Abdomen
Flanks (side of the torso)
Outer thighs
Upper thighs
Upper arms
Chest
Chin
Neck
Buttocks
The areas highlighted in blue in the image below are all the areas Medbelle surgeons offer available lipo locations are highlighted in the image below.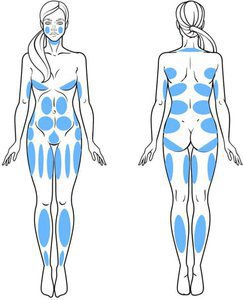 Can liposuction be combined with any other cosmetic procedures?
Yes, liposuction is frequently combined with other procedures. Other surgeries, especially those that removing excess skin are excellent additions to liposuction.
It is good to keep in mind that adding another procedure will increase your liposuction cost. However, combination procedures often provide excellent results because of the fat removal and skin tightening benefits that are combined.
Commonly, lipo is combined with:
Fat transfer procedures like fat transfer breast enlargement or cheek enhancement also use liposuction to harvest the fat that is then transferred to areas lacking volume.
How much does liposuction cost in the UK?
Liposuction cost in the UK begins at £1,500 and can reach £6,500 or more. The more areas of the body treated during one operation, the higher the liposuction cost.
This range for liposuction cost in the UK is also only for lipo alone. While less expensive than having each surgery separately, a combined procedure will be higher than the liposuction cost alone.
Unlike other private surgery providers, with Medbelle you never have to worry about hidden fees in your liposuction cost.
Every Medbelle price is created for a specific patient and their needs based on the recommendations of their surgeon after their free consultation. This means your Medbelle liposuction cost will cover everything you need without any surprise charges.
More specifically, your liposuction cost covers:
All hospital fees
All nursing staff fees
All preoperative appointments
All postoperative appointments
Any medication prescribed by your surgeon
In some cases, your liposuction cost may even include a free compression garment that is crucial to healing well after lipo.
Your Liposuction Consultation with A Medbelle Surgeon
Surgeon consultations for lipo in the UK usually take anywhere from 15 minutes to 1 hour to complete.
The consultation is the first time you and your surgeon meet each other. Together you will discuss:
Your medical history and overall health
Your expectations and goals for liposuction
The general procedure for lipo
Any questions you may have
What should I expect during my lipo consultation?
Your surgeon will ask you questions about yourself to learn about your health and medical history.
By the end of the appointment, they will decide if lipo is right for you and create a treatment plan specifically for your needs and goals.
The questions they ask will likely cover these topics:
Any previous surgeries
Any medical conditions
Your history of weight loss
Any medications you take, including prescription drugs, over-the-counter medications or herbal supplements
Your motivations and expectations for liposuction
Any smoking or alcohol, nicotine or recreational drug use
The best way to ensure you have the best experience possible is to always be truthful with your surgeon.
How is liposuction performed?
Liposuction takes from 1 to 2 hours to perform on average.
The patient will be put under either general anaesthesia or local anaesthesia with sedation during the surgery.
General anaesthesia puts the patient into a deep, dreamless sleep with medication.
Local anaesthesia with sedation is also called twilight sedation. For this, numbing medication is injected into the skin then the patient is given a sedative that helps them remain relaxed during surgery.
Liposuction Incisions & Scars
The incisions necessary for fat removal are usually no larger than 1 centimetre long.
Your surgeon will place these incisions in the most discreet places possible so they are hidden by clothing or obscured by natural folds in your skin.
Wet Liposuction
This is also called tumescent liposuction.
As the name suggests, it uses a tumescent solution of sterile saltwater called saline, an anaesthetic that numbs the skin and a chemical that reduces blood flow to the fat.
This solution reduces the likelihood of excessive bleeding during the procedure while helping to control pain, bruising and swelling after surgery.

Wet lipo is performed as seen in the image above:
The surgeon begins by making a small incision near the treatment area
Through this incision, the tumescent solution is injected into the fat
The surgeon then uses a thin hollow surgical tool called a cannula to break down the fat and separate it from the other tissues in the skin
Saline solution and fat are removed from the body with the cannula via suction
The area now has fewer fat cells and gives the patient a more contoured silhouette
Wet lipo is a less invasive fat removal procedure with less likelihood of complications when compared to dry lipo.
However, wet lipo may take longer to perform than dry lipo.
Dry Liposuction
Dry liposuction was the first type of lipo invented.
This method relies on suction and movement of the cannula to break down and remove

Dry liposuction is performed as seen in the diagram above:
An incision is made at the treatment area
The cannula is inserted into the area and moved backwards and forwards to break apart the fat under the skin
A powerful vacuum is attached to the cannula to suction the fat cells out of the area
The patient is then left with much less fat and a more defined look at the treatment area
Dry lipo allows your surgeon to more quickly remove fat from larger areas of the body than wet lipo.
It is, however, more invasive and carries a higher risk of bleeding, bruising and swelling. For this reason, it is performed less commonly than wet lipo.
Liposuction Recovery & Results
Generally, liposuction patients are able to return home the same day as their procedure. However, your surgeon will decide if this is safe for you after surgery depending on how you recover.
Your surgeon will likely recommend you wear a compression garment on your treatment area for at least a few weeks after your surgery. This garment helps reduce swelling and may speed up your liposuction recovery.
The area will likely look much slimmer immediately after surgery. However, it can take up to 6 months for final results to show as any underlying swelling goes down.
Potential Liposuction Risks & Complications
No matter how unlikely, you should always be aware of the possible side effects of liposuction before agreeing to have surgery.
With Medbelle, your surgeon will always discuss these risks with you before you have surgery, but it is often a good idea to do your own research as well.
The risks and complications associated with liposuction include:
Complications or allergic reaction to anaesthesia
Allergic reaction to other surgical elements such as tape or latex gloves
Bleeding
Temporary bruising
Temporary swelling
Altered sensation at the treatment area
Temporary fluid balance issues (only for wet lipo)
Unwanted or keloid scarring
Unwanted lumps or bumps at the treatment site
Preparation
Liposuction preparation
How should you prepare for liposuction?
Preparation is vital before any elective or cosmetic surgery. Preparing well for your operation will also help you during your recovery. Your surgeon will give you specific pre and postoperative advice which you must follow. Below, we have given some general advice which may be useful to consider when doing your liposuction preparation:
Driving
On the day you are sent back home after your surgery, you will not be able to drive. You must, therefore, organize for someone to take you home after your operation. Furthermore, your surgeon may advise that you will not be able to drive for a period of 5 days to 2 weeks after the procedure.
Sleeping
Although you should take time to rest after your procedure, you should not stay in bed all day. You should try your best to take light, short walks around the house. This is so that you reduce the risk of developing any blood clots in your legs.
When you are sleeping, it may be useful to have extra pillows on your bed so that you can sleep propped up after surgery. Sleeping in this position may help reduce the swelling from the procedure.
Household chores
When you come home, you certainly do not want to worry about doing all your household chores! It is therefore handy to do things like cleaning the house, doing the laundry and taking the bins out before you have your operation. This means you'll come back home ready to put your feet up and recover.
Finally, as you do not want to strain yourself by reaching up to grab cupboard items, you might want to put all mugs, crockery and dry food on a kitchen counter so they are easy to access.
Shopping & food
If you do a lot of cooking at home, you may want to pre-cook some meals and leave them in the freezer so that they are ready for you when you get home.
Your surgeon may also instruct you not do any heavy lifting for a few weeks after your liposuction. If this is the case, you may want to do a big grocery shop before having your operation.
Children & pets
If you have any young children or pets at home, we advise that you get a family member or friend to assist you in taking care of them for a few days while you recover.
Clothing
As you want to be as comfortable as possible during your recovery at home, we advise you wear loose and comfortable clothing. For example, this can include, baggy trousers, tops that easily fasten from the front or back and slip on shoes. Your surgeon will also give you a compression garment to wear after the procedure, which will help reduce swelling.
Alcohol, smoking & drug use
Another important aspect of your liposuction preparation is following your surgeon's advice on alcohol, smoking and drugs. Drinking large amounts of alcohol and using recreational drugs can increase the risk of complications developing during and after your surgical procedure. Smoking, in particular, is quite worrisome for surgeons as it can increase the time it takes your wounds to heal. The longer it takes the wounds to heal, the higher the chance of them developing an infection. It is therefore vital that you stop smoking and using all nicotine products for at least 6 weeks before and after your procedure.
High BMI
The Body Mass Index (BMI) is an important factor for surgeons when considering if patients are suitable for surgery. You can calculate your BMI using your height and weight. Many surgeons have a maximum BMI limit that they will accept, usually, this is 30. This means that if you have a BMI that is greater than 30, your surgeon will not perform the procedure on you and will advise that you reduce your weight before you can go ahead.
Medications
Certain prescription, over the counter and herbal medications can also increase the risk of complications during and after surgery. Your GP will provide your surgeon with a list of the prescription medications you take. It is important, however, for you to also mention if you take any other medications or herbal remedies.
Some homeopathic medications can increase the risk of bleeding and bruising, and some surgeons therefore advise that you stop taking these at least 2 weeks before your procedure. These include, but are not limited to:
Preparations that contain ginger or gingko
Cod liver oil
St John's Wort
Multivitamin preparations.
Making sure to follow all your surgeon's liposuction preparation advice will reduce the risk of any complications occurring and help you during your recovery.
Aftercare
Liposuction aftercare
What should I expect after a liposuction?
It is important to consider what the recovery process will be like after you have your procedure. Your Medbelle BAAPS/BAPRASsurgeon will give you specific and individual instructions that you must follow. Their instructions include timeframes for when you can return to work, driving, and exercise. You can, however, find general guidelines for your liposuction aftercare that are listed below.
Post-operative appointment
Your surgeon will arrange a post-operative appointment to check how your recovery is going after your procedure. They will use this time to examine the treatment area, change any dressings and address any complications that may have risen.
Returning to work
The time you will need to take off work will depend on your surgeon's advice and on the type of job you have. If your job requires you to do a lot of physical activity, your surgeon may recommend that you take more time off work. In general, you should be able to return to work after 7 to 10 days.
Diet
A liposuction procedure is not a weight loss procedure. Although your surgeon will remove fat in certain parts of the body, you can still gain weight after you have had the treatment. Therefore, to avoid reversing the results of your liposuction, it is important that you maintain a healthy diet and a stable weight.
Try to eat foods that are low in sodium and sugar, but high in protein. Add lots of fresh fruits and vegetables to your diet, and drink lots of water to keep at a healthy weight!
Exercise & sport
Your surgeon will give you some specific timeframes for when you can start doing regular exercise and sport. The general guidelines are as follows:
Week 1
Do not do any exercise in the first week after your liposuction. Even minor forms of exercise can increase swelling and affect the final results.
Weeks 2 to 4
During this time, you may slowly begin to resume light cardio activity such as walking on a treadmill. After 3 weeks, you can do more vigorous activities such as cycling.
Weeks 4 to 6
After 4 to 6 weeks have passed, you should be able to resume all sports and activities including heavy lifting and contact sports.
Compression garment
Your surgeon will give you a compression garment to wear after your liposuction, this is an important part of your liposuction aftercare. They may ask you to wear this garment every day and night for the first 2 to 3 weeks of your recovery, removing it only when bathing and showering. Your surgeon may ask you to wear this for a longer or shorter period of time, depending on your body's particular needs. Some surgeons will ask you to buy this garment before the procedure. The garment will help reduce swelling and increase the chances of producing better results after your procedure.
Scar care
There are a couple of techniques you can use to help reduce the appearance of your scars. You should only practice these techniques once your scar fully heals.
Scar massage
Some surgeons may recommend that you do a gentle massage of the scar. You may use cream or oil when massaging.
Silicone creams, gels or sheets
It has been clinically proven that using silicone based products can help reduce the appearance of scars. These usually come in the form of gels, creams or sheets that you can apply over the scar. You can use these products for around 6 months to 1 year to help achieve the best results.
Final results
Following all your surgeon's liposuction aftercare instructions will help you to achieve the best possible results from your surgery. Although you may see a change in your body immediately after the procedure, it will take some time for the swelling to subside and your body to completely settle. It can, therefore, take up to 6 months before you can appreciate the final results, so be patient!
FAQs
Liposuction FAQs
It is important to get answers to all your questions before you have your treatment. This liposuction FAQs page answers some questions that patients often have regarding the liposuction procedure.
Am I too big to have liposuction?
It is important to understand that liposuction is not a type of weight loss surgery. Removing too much excess fat through liposuction for weight loss purposes can lead to serious complications. The aim of a liposuction is to remove stubborn fat that exercise and diet alone cannot shift. We therefore strongly recommend that you reach a stable weight before you have liposuction.
Your surgeon will not operate on you if you have a BMI (Body Mass Index) greater than 30.
Do I need a GP referral for liposuction surgery?
Your surgeon will not require you to provide a GP referral in order to have liposuction. They may, however, contact your GP practice to get a record of your medical history. This will help clarify if you are fit for surgery.
How much fat can be removed during liposuction?
Your surgeon can safely remove up to 5 litres (10 pounds) of fat during a liposuction.
Should I have liposuction or a tummy tuck?
Your surgeon is the best person to advise you on whether you are more suitable for a tummy tuck or liposuction. If you have loose skin that has lost its elasticity due to pregnancy, ageing or weight loss, a tummy tuck may be a more appropriate procedure for you. If you are a younger patient who has healthy, elastic skin and you simply want to enhance your figure and smooth the contour of your body, liposuction may be more suitable for you.
Are the results of liposuction permanent?
The results of your liposuction should last a very long time as long as your weight remains stable. Although liposuction will permanently remove fat from a certain area of the body and reduce the accumulation of fat in that area, it will not completely prevent future weight gain. The fat is likely to accumulate in other areas of the body.
If you have any questions that do not appear on this liposuction FAQs page, one of our patient care advisers can help answer them for you.
close
To what degree did you find what you were looking for?
Thank you for your feedback.